As per the notification updated on 30th on the official VTU website, the exam on 20/06/2014 has been postponed to the later date. Belgaum, examinations to be held on 20-6-2014 are now rescheduled to be held on 21-6-2014, due to elections for teachers and graduate's constitutes in Karnataka. Exams are rescheduled for different BE, B.Arch, MBA, MCA scheme. There is no change in the exam timings; the only change is in the date. The examinations supposed to be held on Friday 20th can also find the update on the official VTU site.
Candidates should make a note of new date. The updated timetable is available from the below link
http://vtu.ac.in/pdf/20062014.pdf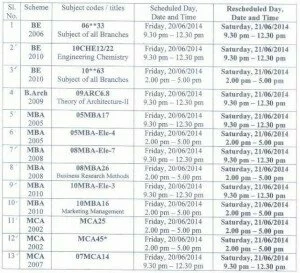 Note: Click on the image for the larger and better view. You can check your VTU result from here.