Visvesvaraya Technological University (VTU) is in the Belguam city of Karnataka and there are whopping 190 colleges affiliated with the university. There are over 90,000+ students in this university alone. Previously, VTU has won many prestigious awards like the CCI Excellence 2013 award. It speaks for the standard maintained by the university. Bangalore is known as a hub of IT and is producing thousands of quality engineers every year. Most of the engineering colleges in Bangalore are affiliated to VTU. As an ex student of RGIT, Bangalore, I understand the importance of getting admission in top engineering college in VTU. There are many engineering colleges which do not even maintain the standards and provide insufficient facility. Even, getting admission in under-rated college will not get you anywhere and you will end up wasting your precious 4 years. Moreover, 100% campus placement and other facilities will not be provided by them.
Perhaps, this is why I insist securing your admission in the top college. There are many other things that could be included about the engineering colleges in Bangalore, but we save this topic for later discussion. In short, do make a background check of the college you select otherwise you will curse the time you took the decision.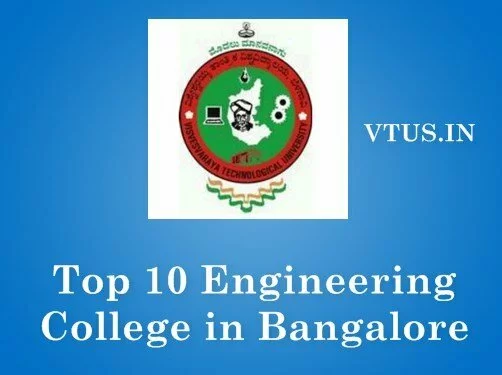 What do you get by securing seats in top colleges?
Better support from teachers and staff
Excellent study environment
Fierce competition from fellow students
Better internal marks
Higher external result
Competitive advantage over other students
Old papers and other material
Better library
Excellent laboratory
Campus placement in top-notch company
Obviously, there are more advantages of getting admission in the top engineering colleges. Unfortunately, better the college higher is the FEE. Not to mention that there are many occasions where you have to pay a donation to the college, especially if you're not a local student. While selecting the best engineering colleges in Bangalore, it is important to move out of the comfort zone. After all, it is a herculean and challenging task to choose the right and appropriate college especially as students are pass outs from their schools and are looking for the renowned institutions. Proper selection gives way for a secured future as well. However, you do not have to worry. Since, the following article will help towards easing yourself in your journey of cornering down the top 10 engineering colleges in Bangalore under VTU. Since, a renowned college will have the best of amenities in place as it is going to work wonders towards providing coveted opportunities towards securing your future as well. The ranking is based on the infrastructure, faculty, and research along with the degrees which the college offers.
Hence, students can surely progress towards the path of success by enrolling themselves in one of the top colleges so that they have nothing to worry in the process.
Note: There is no official ranking provided by VTU. The below list is provided from our own experience and data collected from various resources. Most of the colleges provided below are well-known and reputed colleges in Bangalore.
Serial No.                              Name of College                                             City
1
R

.

V

.

College of Engineering (RVCE)
Bangalore
2
PES Institute of Technology (PESIT)
Bangalore
3
BMS College of Engineering (BMSCE)
Bangalore
4
M

.

S

.

Ramaiah Institute Of Technology (MSRIT)
Bangalore
5
Sri Jayachamarajendra College of Engineering (SJCE)
Mysore
6
Bangalore Institute of Technology (BIT)
Bangalore
7
National Institute of Engineering (NIE)
Mysore
8
BVB College of Engineering and Technology (BVBCET)
Hubli
9
RNS Institute of Technology (RNSIT)
Bangalore
10
University Visvesvaraya College of Engineering (UVCE)
Bangalore
R.V, RNS, PES and M.S.Ramaiah are quite popular choices among the students and parents. All of them have a glorious past and they are quite known for the facilities provided by them. Moreover, these colleges also encourage students to participate in the extra curricular activities. On the other hand, the campus interviews are conducted in these colleges and they are known for 100% job placement.
Finally, now after reading the list of the Top 10 College under VTU, you will be able to choose the best amongst the rest. In the future, we will cover more top colleges from Bangalore in other streams as well. This will also help nursing, MBA and other stream students. For now, we have complied a small list of colleges for engineering students of Bangalore, VTU University. This will pave the way for a highly professionalized environment where will get the best guidance from the teachers who will open a plethora of opportunities for a bright and wonderful career as well. Hence, it can be emphatically said that it is not a Herculean task to choose the best institution from the 190 colleges which are affiliated to Visvesvaraya Technological University. According to a saying, "Decisions which are taken at the right time does wonders, hence you should not wait any further towards choosing the best college. Since, admissions are going on in full swing and you never know when the seats are full. So, what are you waiting for?
Also, do not forget to check out VTU 2017 results from our dedicated result section.